We are back from a beautiful two week Spring Break…yep, I took the liberty of adding an extra week there! 😉  Actually, I have so many students from different school systems and that can mean they have differing Spring Breaks.  So, since we all seemed to be feeling extra tired this year, I decided to try a two week Spring Break to give everyone a chance to fully rest and hoped they'd come back to the studio refreshed and ready to tackle a busy month of recital preparations!  And boy did it work!  This week has been full of energy and positivity!  We are ready and raring (is that how you spell that word?!) to go!
So, I thought I sweeten the recital preparation pot just a little with one last practice incentive of the year.  I am calling it: 20 days for $20.  Each student is child to practice 20 days (DAYS not times) between their lesson this week and the last lesson before the recital.  If they can complete 20 days of practice by then, they will be entered into a draw for a $20 gift card!  The catch?  They will only have about 21 or 22 days in which to complete this.  So, that means they will pretty much have to practice 7 days a week between now and then…hence, the challenge part!  We are going over the details of this in studio, but just to clarify:
Monday students must have completed a minimum of 20 practices by their May 4th lesson
Tuesday students must have completed a minimum of 20 practices by their May 5th lesson
Wednesday students will have until May 6th
Thursdays students will have until May 7th
And the draw and award of the prize will take place on May 8th at the end of our big Spring Recital!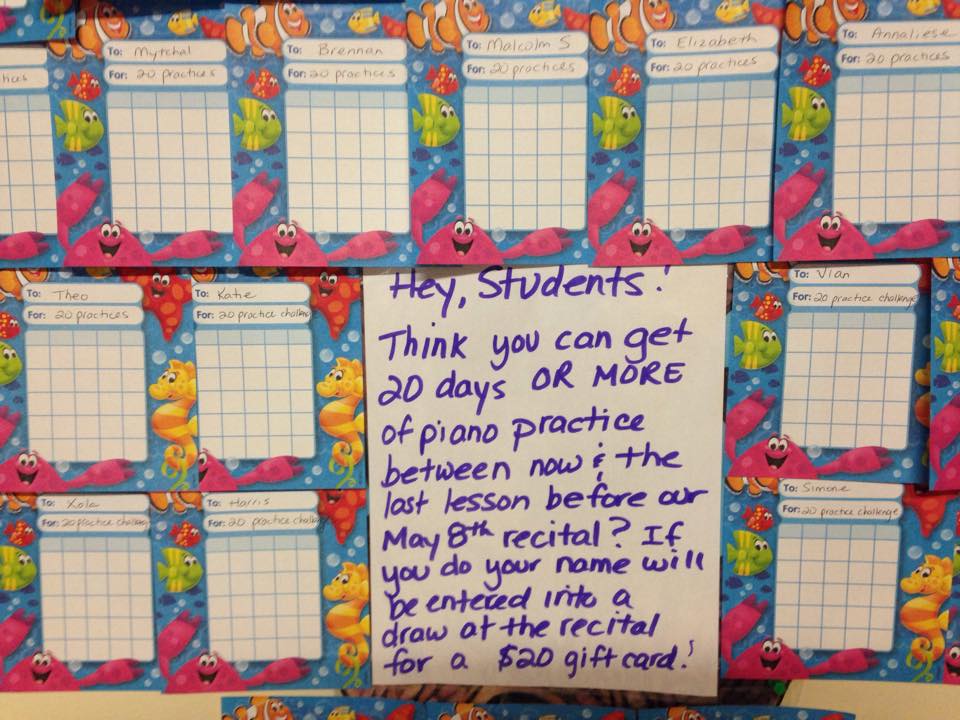 As you can see, I have some little sheets in the studio for the students to check off each day of practice and keep track their practicing….and perhaps their fellow students as well! 😉