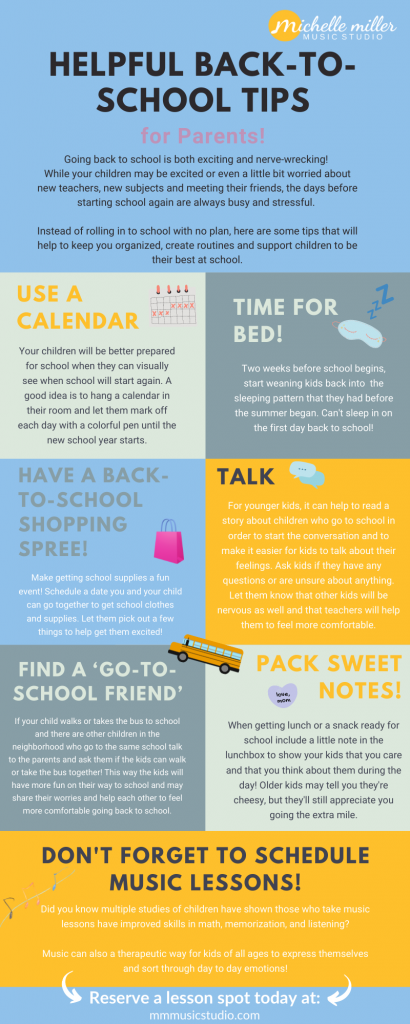 It's that time again! Back-to-School! Going back to school is both exciting and nerve-wrecking!
While your children may be excited or even a little bit worried about new teachers, new subjects and meeting their friends, the days before starting school again are always busy and stressful.
Instead of rolling in to school with no plan, here are some tips that will help to keep you organized, create routines and support children to be their best at school.
USE A CALENDAR
Your children will be better prepared for school when they can visually see when school will start again. A good idea is to hang a calendar in their room and let them mark off each day with a colorful pen until the new school year starts.
TIME FOR BED
Two weeks before school begins, start weaning kids back into the sleeping pattern that they had before the summer began. Can't sleep in on the first day back to school!
HAVE A BACK TO SCHOOL SHOPPING SPREE
Make getting school supplies a fun event! Schedule a date you and your child can go together to get school clothes and supplies. Let them pick out a few things to help get them excited!
TALK
For younger kids, it can help to read a story about children who go to school in order to start the conversation and to make it easier for kids to talk about their feelings. Ask kids if they have any questions or are unsure about anything. Let them know that other kids will be nervous as well and that teachers will help them to feel more comfortable.
FIND A GO-TO-SCHOOL FRIEND
If your child walks or takes the bus to school and there are other children in the neighborhood who go to the same school talk to the parents and ask them if the kids can walk or take the bus together! This way the kids will have more fun on their way to school and may share their worries and help each other to feel more comfortable going back to school.
PACK SWEET NOTES
When getting lunch or a snack ready for school include a little note in the lunchbox to show your kids that you care and that you think about them during the day! Older kids may tell you they're cheesy, but they'll still appreciate you going the extra mile.
DON'T FORGET TO SCHEDULE MUSIC LESSONS
Did you know multiple studies of children have shown those who take music lessons have improved skills in math, memorization, and listening?
Music can also a therapeutic way for kids of all ages to express themselves and sort through day to day emotions! To find out more and to request of PDF of the "Back to School" infographic, go to: https://mmmusicstudio.com/contact/