Our unique piano lessons allow students to:
Feel connection and community.
Feel confident and successful.
Experience joy and fun and share that with others.

Music for Young Children:
Weekly small group piano classes, ages 3-8, grouped according to age
Why start with a small class setting?
There are some big benefits for kids who begin learning in a group setting.
GREAT RHYTHM: When kids learn in a group setting they learn to keep time and work as a team in ensemble playing.
MORE HOME PRACTICE: Group learning is social and motivating.  They will look forward to fun with friends each week and will be more motivated to practice at home.
MORE SKILLS: The hour long setting allows time for them to learn so much more than just piano.  There will be games, composing, ear training and piano improvisation, too!
CONFIDENCE: Working in a small group they receive encouragement from their peers and see that they are not alone when it comes to learning the challenging parts.
Tuition is $1100 per year plus annual books/materials fee for weekly hour long small group lessons (4-6 students) running September thru June. Payable in 10 monthly installments.  Sunrise Preschool Music Classes are also available on weekday mornings and are excellent prep for piano classes.
"We have been a part of Michelle's studio  for 3 years and I cannot recommend Michelle enough! I love the way MYC teaches the children to learn notes and read music with fun characters, stories and songs. Michelle is encouraging when the material gets a little tougher and is easily able to adapt to teaching challenges that might arise during class. My daughter has high anxiety and can struggle with class settings, however she tells me she loves playing piano. I attribute that 100% to Michelle's teaching style.
This year, we finished up the last 4 months of MYC classes by Zoom online. This is fun and flexible program that allows for group online video meetings. The experience is just as effective as an in person class. Michelle is expertly able to teach the curriculum and demonstrate technique for the kids via video call."   ~Helen, parent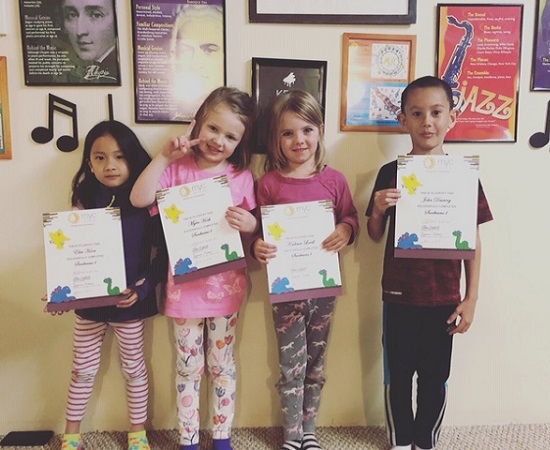 Accelerated Piano Lab Program for 9 and up:
For MYC grads and later beginners, mixed ages and levels
This lab-style program consists of weekly 60 minute lessons.
The fun and motivating small class setting of 4-6 students addresses the problems piano students face: the difficulty of home practice and the isolation of being a solo player.
This is often because traditional private lessons just don't offer enough time.  In this program, students will spend 60 minutes weekly in a structured but safe environment with a professional teacher empowering them to build problem solving skills, self-direct their learning and navigate their music independently so they can become confident musicians. They will receive the one on one attention they need as well as the space to work through it on their own.
They will receive encouragement and practice guidance, gain self-confidence, progress faster and love their lessons! This approach reduces anxiety, boosts confidence and focuses on supporting students while cultivating their love for piano. Students learn all their pieces during their lessons rather than being sent home to learn and practice them.  They leave lessons excited to play what they've learned.
Tuition for weekly 60 minute classes are $1100 per year or $110/month and includes 5 master classes and 2 recitals.
Private Piano Lessons:
For adults, online students and late intermediate or advanced students
Tuition depends upon lesson time required each week.
Tuition includes: 34 lessons per year (4-5 of which will 60 minute fun-filled, theme-based masterclasses), 2 recitals and much more! A la carte lessons are also available for adult students.
Online lessons: available also as semester lessons or asynchronous video lessons.
"Michelle didn't miss a beat when making the switch to online learning! We've been so impressed with all her cool games and creative ways to engage students. She consistently surpasses expectations!"  ~Stephanie, parent