Making Music. Sharing Joy.
Piano Lessons That Grow Confidence and Creativity
Imagine your child sitting confidently at the piano bringing joy to family and friends by leading a family singalong or playing beautiful music they've learned or even composed themselves!

"My son started taking music lessons from Michelle when he was 3 and when he was in grade one he started piano. I have always found Michelle to be an engaging and knowledgeable teacher. She really involves the students in choosing the music they like to play as well as introducing them to new music. She teaches her students an appreciation for classical music and composers. Michelle has great skills as a piano teacher and is able to adapt from small 3 year olds all the way up to adults. She challenges Matt to always do his best. None of what I have written here does Michelle justice, she isn't just "the piano teacher" but a family friend."
Michelle and the MYC program are both home runs! Michelle has a wonderful "way" with elementary kids – it takes real talent to keep small kids engaged when they have just finished school, are hungry (of course) and simply want to go outside and play. But she does it with ease… and the results are impressive. The learning techniques are simple yet effective and we really appreciate Michelle's extra efforts in planning recital activities. It is great to see young children perform with such confidence and excitement for music! 
"I am thankful that Michelle managed to put together a new MYC My Choice class when my son was 10 years old. He loves to learn the piano from her. He is now in private piano lessons and continues to enjoy it very much. Michelle is so knowledgeable, so energetic, and so enthusiastic. Looking at her smiling face, you would never guess that she teaches as many as 45 students per week. Thank you, Michelle!"
"We love MYC and Michelle! Caleb is in the MYC classes and Brianna takes private lessons from Michelle. Check it out."
"Thank you, Michelle, for your always inspiring teaching!" 
"My 9 year old daughter is loving music and piano lessons again. She had decided to quit piano altogether, but agreed to switch teachers as a last attempt. We started with Michelle and she now looks forward to lessons and motivates herself to practice. I am so pleased with the result changing teachers has had. I highly recommend Michelle as a piano teacher."
"Online lessons with Michelle are just what we were hoping for! Our girls are loving it and we appreciate the full package Michelle brings to the task."
"My 3-year-old daughter loves Michelle and is so excited to take her online class each week.  Michelle does a fantastic job of making each class feel like a true music experience that fully engages each child.  My son is also in one of her piano classes and she has never been short of amazing.  She is always happy and positive."
"You will never regret the opportunity for your child to learn from a passionate and dedicated instructor, who offers a well-rounded music experience, that is delivered both professionally and with care. Michelle Miller is that person. She will make your child's music journey one they can look back on with fond memories. We have enjoyed and will continue to enjoy her programs in the coming years."
"Michelle's joy of music, coupled with her patience with me as I learn, is what keeps me so interested in continuing this musical journey in my old age.  I have always dreamed of playing the piano - even when I was a small child!  Michelle has helped me finally realize this dream.  At 61, learning does not easily occur, but the best thing about Michelle is that she has helped me to see that this is a joyful journey, not a destination.  Thank you, Michelle for sharing your joy, your talent, your patience, and your expertise!  You are truly EXTRA-ordinary!"
"Michelle's enthusiasm and energy communicate so well to the kids! She inspires a love of music including its fundamentals and provides high quality education on musical technique and theory to her students."
"Michelle is an amazing teacher, not only for her knowledge but for her ability to make music so engaging."
"Michelle is so enthusiastic and fun, the kids love her and they learn so much."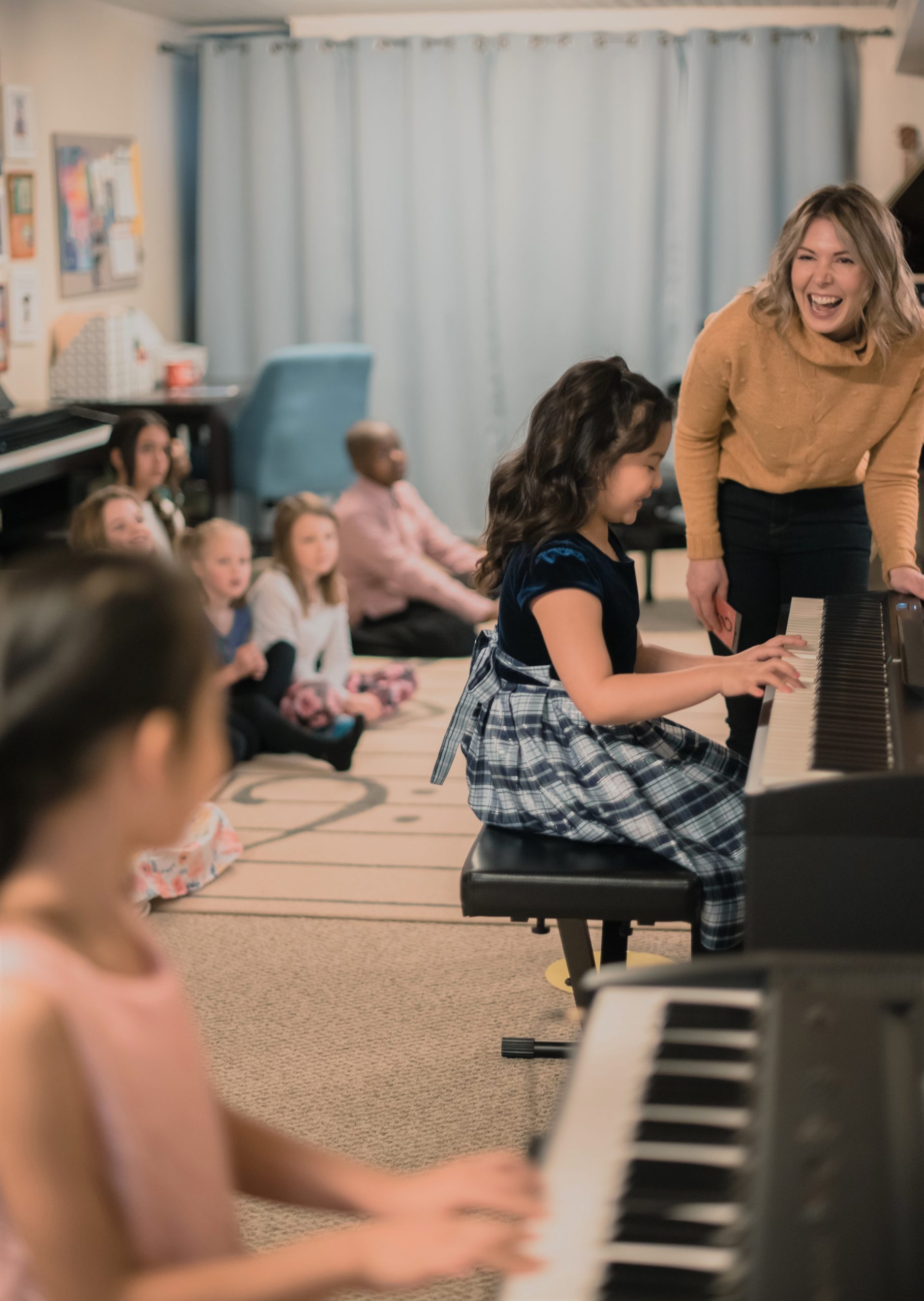 In our studio the focus is on growing happy, creative, well-educated musicians and making the experience of learning joyful, magical and as easy as possible! We learn note-reading through stories, games and catchy songs. Tutorial videos are accessible from home in our virtual studio and we enjoy many practice challenges that are fun, educational and sometimes even a little silly.
Here students look forward to piano lessons each week because they are upbeat, engaging and FUN, balancing artsy freedom and creativity with classical technique to impart the comprehensive skills needed to make and create music along whatever path they choose! They'll learn music they love to practice and share with others. They'll even compose their own!
Come be a part of our community!
You belong here.
Lessons are offered both locally in Edmonton, Alberta and online!
FIND OUT MORE!